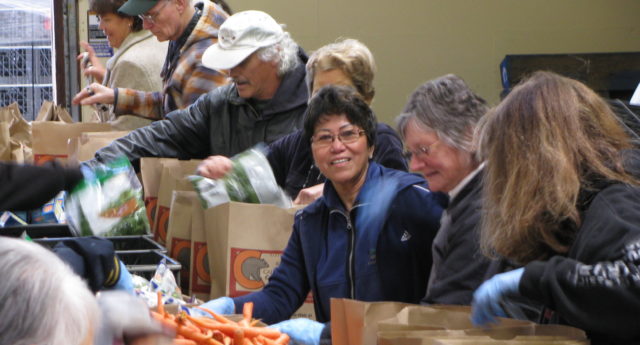 We have many volunteer opportunities for your specialty and area of interest – with lunch and groceries, too! Scroll down to complete our simple volunteer information form, call 831-479-1055 ext 258, or email volunteer@greybears.org to learn more about how you can help us make a difference.
Ongoing opportunities
Healthy Food Program – Prepare, assemble and deliver brown bags of groceries, drive one of our food pick-up/delivery vans, pick fruit and other produce, or turn food composting tubs.
Thrift Store – Receive donations, evaluate and price items, get creative with in-store merchandising, or cashier.
Bookstore & Online Book Sales  – Shelve books, cashier, or research and list books on Amazon.com.
Computers & Electronics – Test and repair electronics, audio-video gear, appliances, or assist shoppers or run a register in the store.
Cook – Prepare and serve healthy meals every weekday!
Office/Administrative – Help us provide excellent customer service for Grey Bears program participants, answer phones, enter data and more.
Facilities Maintenance – Your carpentry, electrical and handyman experience keep our 2.7-acre property in top shape.