Santa Cruz Sentinel Reader's Choice Award Winner and Good Times Best Thrift Store
Click here for Hours and Locations
Stores are open every day, Monday through Sunday, 9am-3:30pm.
Household donations accepted every day 7:30am-2pm. Shop our regular sales and rotating weekly specials updated on our facebook page:
Every day: all shoes $10 in store; all purses $3-$5; all wood and office chairs $5; all hats $2
50%-Off all clothing and/or fill a bag of clothes for $10 on Tuesdays, Thursdays and Saturdays
50%-Off all furniture Wednesdays and Sundays
Fill a bag of books every day for $10
Check the Latest Program Updates for special sales and events.
Gently used, terrific values – the Thrift Store & Boutique offers a treasure trove of items, including clothing, accessories and fabrics, furniture, home goods, jewelry, art, plants and garden gifts, books and media, appliances such as microwaves, full size and compact refrigerators, microwaves, vacuums, sewing machines, hardware and tools, medical equipment and supplies, games, puzzles, sporting goods, bikes, exercise equipment and more.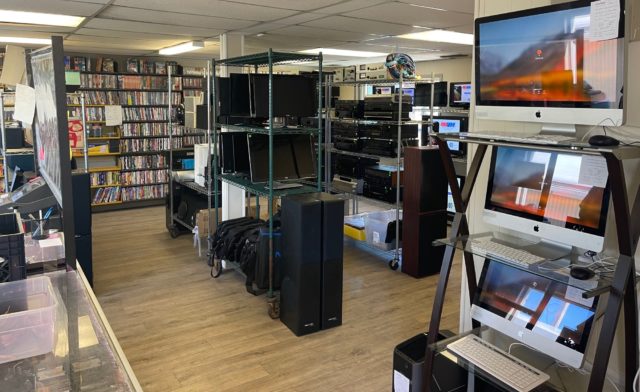 Computer Electronics Store
Refurbished computers: PC desktop, laptops, notebooks, iMac, MacBook Pro all with operating systems installed, tablets, iPods, iPhones, mp3 players and more.
Computer peripherals and components: monitors, printers, speakers, hard drives, chargers, cables, mice, keyboards and other electronics, etc.
LCD/Smart TVs, TVs with DVD/VHS players built in.
Audio gear: complete stereo systems, amplifiers, speakers, DVD, VHS and CD players, vintage radios, digital and analog telephones, hundreds of DVD and Blu-ray movies, CDs, vinyl, audio books and other media.
Computer gaming systems, XBox, Playstations, Wii  and vintage systems.
Bookshop
Browse through thousands of titles in every genre in the new, expanded bookshop.
Shop 7,000 titles listed on our Amazon.com store.
Your thrift store donations and purchases support the Healthy Food Program while supporting our efforts to combat the climate emergency.