Benchmarks over five decades of service
1973 – Grey Bears is conceived by UCSC graduate Kristina Mailliard, 23, and her boyfriend, Gary Denny, 32. Surprised at the undernourishment of the elderly poor, they glean fruits and vegetables from their gardens and share with local seniors. They hold a harvest festival attended by 300 seniors, 60 of whom bring food to share.
1974 – First annual holiday dinner takes place at the Santa Cruz Civic Auditorium. Volunteer cooks led by Thelma Dalman prepare the dinner at the old County hospital kitchen on Emeline. Thelma was a member of the first board of directors and head chef for the next 25 years.
1975 – Working out of local grower Ralph Moceo's warehouse on Fair Avenue, Grey Bears quickly grows to 1,200 food recipients, 700 of whom pay $1 per year to receive weekly produce. Volunteers begin delivering food to 9 sites and to 190 homebound seniors. Fifteen farms open their fields to volunteer gleaners. Stories in the Wall Street Journal, People Magazine, and California Farmer, and national network television coverage catapult Grey Bears and senior volunteerism into national spotlight.
1976 – Grey Bears incorporated as a nonprofit 501(c)(3) organization. First anniversary celebrating volunteers takes place on July 13th at Messiah Lutheran Church on High Street. Kristina Mailliard voted "Woman of the Year" by Santa Cruz Chamber of Commerce.
1981 – Grey Bears increases deliveries to 37 sites and to homebound seniors nine months of the year. Newspaper repurposing for sale to the floral industry begins.
1984 – Move to Brown Bulb Ranch provides more central location as seniors served by the program increases steadily to about 2,000.
1985 – Board of Directors purchases their first mid-county lot at 2710 Chanticleer Avenue, our current home.
1986 – Food deliveries start at Chanticleer after refurbishing former chicken coop into a warehouse and new cooler.
1988 – Lynn Francis appointed Executive Director. First full-time Recycling Manage
r is hired.
1989 – Grey Bears is established as the outlet for Ecology Action, a recycling plant that closed. Seniors served by the Healthy Food Delivery program reaches 2,200 following Loma Prieta earthquake.
1990 – Grey Bears named one of the "Thousand Points of Light" by President George H.W. Bush.
1992 – Grey Bears is a founding member of F.O.O.D. Crops (food organizations organizing and distributing crops), Renamed Ag Against Hunger they supply Grey Bears with 750,000 pounds of produce per year.
Board approves purchase of adjacent lot at 2650 Chanticleer, doubling property space. A full time thrift store opens to replace quarterly rummage sales.
1996 – Grey Bears purchases lot at 2620 Chanticleer dedicated to drive-through recycling. A contract with the County is signed to manage the recycling center at the Buena Vista Landfill.
2000 – A contract with the County is signed to operate Chanticleer public recycling center.
2002 – Grey Bears begins accepting e-waste recycling at Chanticleer, including computers, printers, televisions, appliances and other electronics.
2004 – Program food scrap composting begins in two Earth Tubs. By 2012, four additional Earth Tubs are acquired composting a total of 100 tons of organic waste, yielding 20 tons of high-quality compost augmenting local gardens.
2006 – Computer lab is created with 10 workstations, internet and screen-shot wall projector. Free, low-cost and by-donation classes offered to seniors in computers, Spanish, cooking, Taiko drumming and exercise.
2007 – Thrift store adds more space for housewares and furniture. Commercial kitchen facilities are upgraded. Daily hot meals continue to be served.
2008 – Board approves purchase of 10,000 square foot building adjacent to existing property at 2608-10 Chanticleer envisioning future home of food distribution facility.
2010 – Lynn Francis retires after 25 years; Board selects Tim Brattan as Executive Director. Healthy Food program now distributing weekly grocery bags to 3,300 seniors.
2011 – Newspaper rolling room closes due to lack of newsprint; room is renovated into clothing department of thrift store. Two 40-foot produce container coolers and refrigerated truck purchased.
2012 – Expanded computer e
electronics store opens. More than 1,000 seniors attend 39th Annual Harvest Picnic at Harvey West Park. Healthy Food program now serving 3,600 seniors. Chair yoga classes begin.
2013 – First Santa Cruz Repair Café held May 4 with fixit coaches helping the public repair non-working household items. Grey Bears celebrates 40th anniversary with new logo, tagline, mission and vision statements culminating at annual Harvest Picnic on September 24.
2014 – Fire burns through the thrift store donations and housewares building. Fire recovery fund is established with help from donors and community partners. Volunteers begin listing books, electronics and other items on Amazon.com and other online platforms.
2015 – Grey Bears named Organization of the Year by Aptos Chamber. Grey Bears membership votes to change Article 6 of bylaws moving governance to Board of Directors.
2016 – Construction begins on new 3,000 square foot thrift store building to replace the one lost to fire. Repair Cafe's are now held quarterly.
2017 – New 3,000 square foot thrift store building opens July 5th with Grand Opening and ribbon cutting on August 1. Styrofoam (PS6) processing begins.
2018 – 18 kW photo-voltaic solar system is installed on new thrift store building. Grey Bears voted Best Nonprofit by readers of Good Times and Santa Cruz Waves magazine. First 21,000 pounds of processed Styrofoam (EPS) ships in June.
2019 – Ag Against Hunger merges with the Food Bank of Monterey County, providing 600,000+ pounds of fresh produce to Grey Bears annually. New 4-year contract signed with County for operation of Buena Vista Landfill and Ben Lomond Transfer Station recycling centers. County and Cities of Santa Cruz, Watsonville and Capitola help fund Chanticleer e-waste and PS6 (Styrofoam) processing.
2020 – Due to COVID-19 pandemic, 4,400 seniors now receiving weekly healthy food deliveries with 1,400+ door-to-door. Nearly 1,000 meals are delivered to CZU Complex Fire evacuees, and 1,250 holiday dinners are picked up by seniors at Chanticleer and Watsonville Senior Center drive-thru. CRV beverage container buy-back begins at Ben Lomond recycling center.
2021 – Healthy Food program delivers a record 2,687,714 pounds of food to 5,000+ seniors, families and farmworkers. First Harvest Festival luncheon event held at Grey Bears on September 25.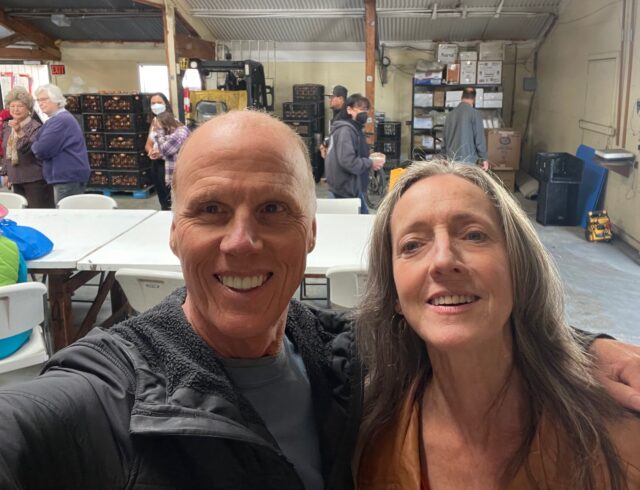 2022 – Executive Director, Tim Brattan, announces his retirement after 12 years of service. Board of Directors selects Jennifer Merchant as the fifth Executive Director to lead the organization. Grey Bears named Organization of the Year by Aptos Chamber for second time.