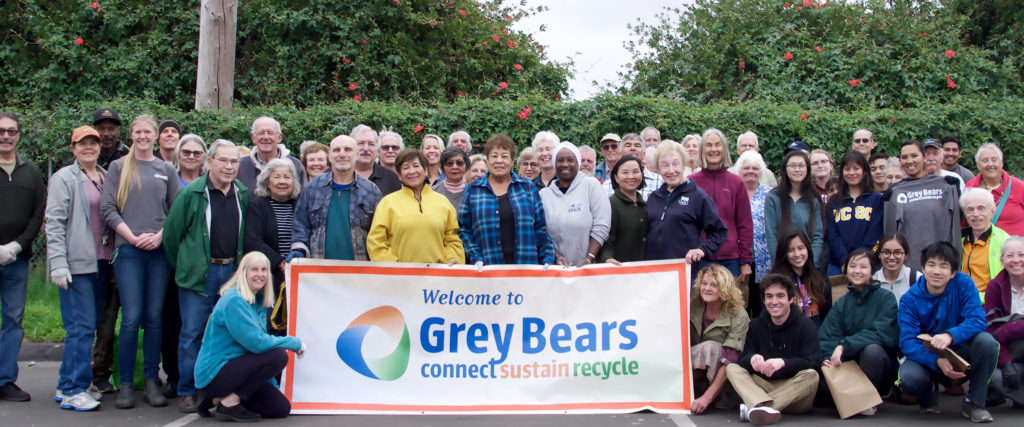 Grey Bears improves the health and well-being of seniors and our community through food and meal deliveries, volunteerism, resource conservation and recycling.
Our Vision
All seniors live healthy, meaningful lives.
Our Core Values

Respect individuals
Trust, integrity, diversity and compassion
Volunteerism and community service
Acknowledge and respond to the challenges of aging and living with disabilities
Advance sustainability via reusing, repairing, repurposing and recycling
Our Work
Local, vital and multifaceted, Grey Bears promotes good nutrition, activity and social connection as the perfect recipe for healthy aging. Since 1973 the Healthy Food program has delivered 110 million pounds of food to Santa Cruz County seniors, veterans, families and farmworkers.
Our thrift store repurposes donated household items while reducing our collective carbon footprint. Three recycling centers divert 8,000 tons of material from landfills each year, and our composting site transforms 60 tons of food scraps into high-quality compost for sale in the thrift store. We promote activity, learning and volunteering to keep our community engaged and connected.
Donate
We gratefully accept donations of food, money, recycling, clothing, household items, medical supplies, books, vehicles, TVs, electronics, real estate, volunteer time, estate items and more. Grey Bears is a 501(c)(3) nonprofit organization, FEIN #94-2298681.