No brown bag deliveries this week, July 7-8. Our kitchen will also be closed for upgrades this week. Though we won't serve hot meals, we'll be open as usual Mon-Fri for food shopping at 11am behind the warehouse. Regular meals resume on July 12.
Sign up to receive your weekly bag of groceries at our new administrative offices at 2815 Chanticleer before our main campus on the right/west side of the street (1st driveway on the right past Sutter), or donate to support the Healthy Food program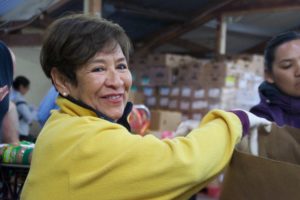 . You're also invited to shop for groceries weekdays at 11am at our 2710 Chanticleer Ave campus and stay for lunch at 11:30am. Contact Sharon for info or call 831-479-1055 ext. 223. Please consider volunteering.
50%-Off Thrift Store Sale is this Saturday, July 9. Shop terrific values in the Thrift Store, Computer Electronics and Bookstore including housewares, furniture, clothing, hardware/tools, medical, electronics, herbal formulas-supplements, sporting items and much more, open every day, Mon-Sun 9am-3:30pm.
Drop off your separated recycling materials at one of Grey Bears 3 recycling centers to ensure all of it is recycled, including CRV plastic, glass and aluminum beverage containers (redeem your CRV containers for cash vouchers at our Ben Lomond center). You can also recycle your old electronics (computers, cell phones, TVs/monitors, amplifiers, etc.), Styrofoam (PS#6) and more at our Chanticleer center.
Volunteer at Grey Bears! Choose from more than 20 volunteer opportunities. Click here to complete the simple application or contact Rosie, 831-479-1055 ext 226.
Suzi Mahler offers 4 weekly chair yoga classes, including one in-person at Grey Bears on Friday mornings at 9:30.  For the live class, pre-registration by emailing Suzi, full COVID vaccination required. All of Suzi's classes are offered via Zoom on Tuesdays, Thursdays and Fridays at 9:30am, and Wednesdays at 10:30am – email Suzi for Zoom link.
Check out our other classes including Spanish on Wednesdays at 12-noon, women's support groups, and one-on-one tech help by appointment. Email Sharon for more info or call 831-479-1055 ext 223.