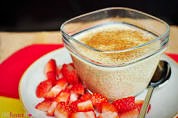 Try this wonderful dessert or breakfast choice.
Ingredients
1 cup quinoa ( try red quinoa for a nuttier flavor)
4 cups unsweetened low fat coconut milk
1/3 cup maple syrup
1-1/2 teaspoon pure vanilla extract
1 teaspoon cinnamon
pinch of sea salt
handful of raisins, or golden raisins
raspberries, blueberries and or strawberries
Clean and rinse quinoa in a mesh colander. Using a 3-quart sauce pan, combine quinoa, coconut milk, maple syrup, vanilla, cinnamon and salt. Bring to a boil, then reduce heat to low and simmer for 25-30 minutes, stirring occasionally. Stir in raisins. Remove from heat. If pudding consistency is too thin, cook an additional 5 minutes. Serve with a sprinkle of cinnamon and fresh berries or other favorite fruit.