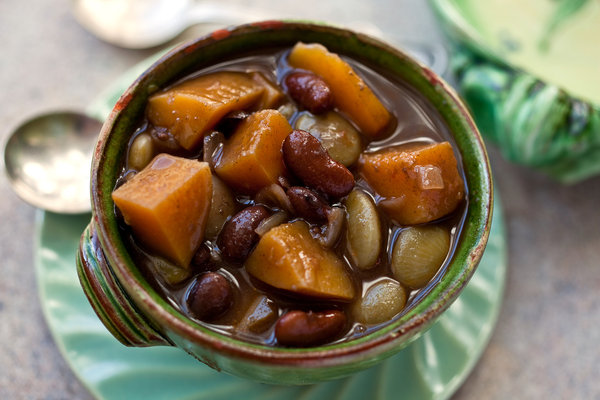 Use a combination of white and red or other beans for this savory stew. If you have them, the fresh or frozen limas add a pale green, fresh bean to the mix. Soaking the beans is not absolutely necessary, but you'll find that they cook more evenly and have a more uniform, pillowy texture if you do.
Ingredients:
1 pound mixed beans, like pintos, borlottis, white beans, red beans and giant limas, soaked for 6 hours or overnight in 2 quarts water
2 tablespoons extra virgin olive oil
1 tablespoon sweet paprika
1 medium onion, chopped
3 large garlic cloves, minced or put through a press
An herb bundle (bouquet garni) made with a bay leaf, a Parmesan rind and a couple of sprigs of fresh thyme
1-1/2 pounds winter squash, peeled and cut into cubes
1/2 pound fresh or frozen lima beans
1 pound tomatoes, peeled, seeded and chopped, or one 14-ounce can, with liquid
Salt and freshly ground pepper to taste
1/4 cup chopped or slivered fresh basil
Freshly grated Parmesan for serving
Directions
1. Drain the beans through a strainer set over a bowl. Transfer to a large, heavy soup pot or Dutch oven. Measure the liquid in the bowl and add enough water to measure 2 quarts. Add to the beans and bring to a gentle boil over medium heat. Cover, reduce the heat to low and simmer 1 hour. Add salt to taste and the bouquet garni, and continue to simmer until tender but intact, about 30 minutes.
2. Meanwhile, heat the olive oil over medium heat in a large, heavy frying pan and add the onion. Cook, stirring, until the onion is tender, about 5 minutes, and add the paprika. Stir together for about a minute, and add the garlic and a pinch of salt. Cook, stirring, for a minute or two, until the garlic and onions are very fragrant, and stir in the tomatoes. Cook, stirring often, until the tomatoes are cooked down and fragrant, about 5 to 10 minutes. Add a ladleful of broth from the beans and stir to deglaze the bottom of the pan.
3. Stir the onion mixture into the beans. Add salt and pepper to taste. Add the winter squash and lima beans. Cover and simmer for about 30 minutes, until the squash and all the beans are tender. Taste and adjust salt, and add freshly ground pepper. Remove the bouquet garni. Just before serving stir in the fresh basil. Serve in wide soup bowls, passing Parmesan for sprinkling.
Yield: Serves 6
Advance preparation: This will keep for five days in the refrigerator and is best eaten a day after it is made. Add the basil just before serving. Nutritional information per serving (6 servings): 400 calories; 1 gram saturated fat; 1 gram polyunsaturated fat; 3 grams monounsaturated fat; 0 milligrams cholesterol; 70 grams carbohydrates; 20 grams dietary fiber; 124 milligrams sodium (does not include salt to taste); 22 grams protein.
Source: Martha Rose Shulman, NY Times, 2011