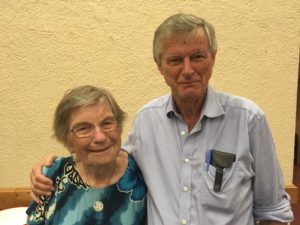 Irma and Peter Andrews
The Path to Santa Cruz: Irma grew up in Nova Scotia, leaving in her 20's for the big city of Montreal. Peter grew up in coastal southwest England, and traveled the world to seek adventure. Fate brought them together in Montreal, but they didn't stay long. They moved to Southern California, then Nova Scotia, Ontario, Silicon Valley, and eventually Sweden, retiring to Santa Cruz 16 years ago.
Favorite Place: Nova Scotia, where they have a summer home and enjoy the slower pace and peaceful environment.  "But you can't beat the delightful climate and good food year-round in Santa Cruz."
Work: Irma taught high school math and physics. Peter was an accountant, usually in engineering companies. "I probably should have been an engineer instead of an accountant." Peter now volunteers at the Seniors Council in Watsonville, helping folks do their tax returns.
Family: Daughter Emily teaches in Edmonton (Canada), with her husband and 3 children. Son Tim is in Hartford, CT, with his wife and 2 teenagers.
Surprising thing about retirement: "Instead of down-sizing, we're making more room for when the grandchildren visit."
Passion: Playing bridge. Their photo is from a recent tournament in Mexico. (editors note: they're formidable opponents!)
Volunteering for Grey Bears: "A neighbor introduced us to Grey Bears as soon as we moved here.  We've been delivering weekly bags to homebound seniors ever since. It's so satisfying and meaningful when the recipients tell you how much they appreciate it."
Favorite Grey Bears anecdote: "A few years ago, Grey Bears received computers to give to seniors, along with some training. I told everyone on our route. A woman in her 90s replied "Is that the truth? You've made my day! Now I can write my grandchildren!"