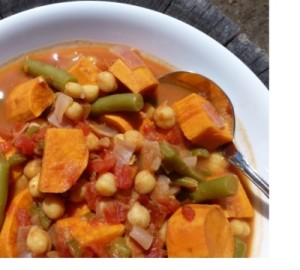 Once you've sampled this intoxicating combination of sweet potatoes, peanut butter and spices you'll wonder why you never thought to combine these ingredients as they do in this North African country. This hearty stew is delicious served over rice, couscous or other cooked starches.
Ingredients
1 onion, chopped
2 jalapeno peppers, seeded and finely chopped
2 tsp finely chopped fresh ginger
3 cloves garlic, crushed or minced
2 tsp ground cumin
1/2 tsp ground cinnamon
1/4 tsp crushed red pepper
1/4 tsp ground coriander
5 cups peeled coarsely ground sweet potatoes or yams
3 cups of chopped fresh tomatoes (or 2 cans coarsely chopped tomatoes)
2 cans (15 oz each) chickpeas, drained and rinsed
1 cup green beans, cut into 1″ pieces
1-1/2 cups vegetable broth
1/4 cup natural peanut (or almond) butter
1/4 cup coarsely chopped fresh cilantro
Directions
Put the onion, peppers, ginger and garlic into a large saucepan. Stir in 1/3 cup of water and cook, stirring occasionally for 5 minutes.
Add the cumin, cinnamon, red pepper and coriander. Cook and stir for 1 minute.
Add the sweet potatoes or yams, tomatoes, chickpeas, green beans, vegetable broth and peanut butter. Bring to a boil, reduce heat to low and simmer until potatoes are tender, about 30 minutes. Stir in the cilantro, then let the stew rest for 2 minutes before serving.
Prep: 20 minutes      Cook: 45 minutes      Serves 6-8