Chef Poppy shares her famous Bread and Butter Stuffing (adapted from The Dean and Deluca Cookbook). Poppy says, "I make this stuffing every year and it's a sensation. I cook it outside the bird in a separate pan so the chucks of bread achieve a crunchy, chewy texture. It's more like a bread pudding than a stuffing. The amount of butter may raise some eyebrows, but remember, it's the holidays. A little indulgence is necessary – and worth it!"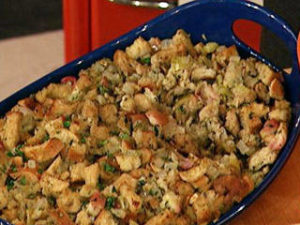 Bread and Butter Stuffing
(enough for a 14 – 16 pound turkey)
1 loaf white bread, slices
1 loaf whole wheat bread, sliced
1-1/2 pounds unsalted butter (you can use less, if you like)
2 cups chopped onions
1 cup peeled and chopped apple
3 cups chicken or turkey stock
Lots of fresh thyme (hard to measure … maybe 15 sprigs)
1 cup currents (can use raisins)
Salt and fresh pepper
1. The night before cooking, spread the bread out in a single layer on sheet pans or towels and allow to dry out overnight.
2. The next morning, in a large bowl break the bread into coarse 1-1/2 inch pieces. Don't worry about being precise.
3. Melt the butter in a large saucepan over low heat, making sure not to burn it. Add the celery, onions and apple and cook over low heat for 5 minutes. Add the stock and increase the heat to medium and bring to a boil. Turn off the heat and allow to cool for a few minutes.
4. Pour the mixture over the bread and add the thyme leaves. Add currents, salt and pepper, and mix well. Put the mixture in a large roasting pan and cover with foil. Bake in a 400 degree oven for 45 minutes. Remove foil and bake another 40 minutes. Enjoy!