Chef Poppy's Irish Soda Bread
This bread is a wonderful staple in my home. It is quick because there is no yeast, therefore no rising time. I have estimated the amount of buttermilk. Start with less and stop when the flour is incorporated and consistency of the dough is moist but not too wet. Like everything, this takes practice, so don't be discouraged, keep trying. You and your family and friends will love it.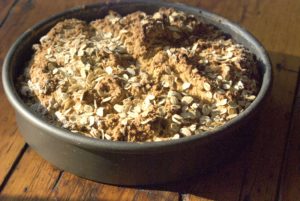 Ingredients
2 cups white bread flour
1 cup whole wheat flour
1 tsp salt
1 tsp baking soda
3 T wheat germ
2 T brown sugar
About 1 cup buttermilk
Olive oil (for greasing pan)
Oatmeal (for pan and top of bread)
Preheat oven to 450 degrees.
Lightly oil pan (I use a cake pan) and line with oatmeal
Combine all dry ingredients (except oatmeal) Stir until everything is well mixed.
Add 1/2 cup buttermilk to start and continue to add, little by little, until all is combined and dough is moist but not too wet.
Place dough in pan and carefully push down to fill.
With a knife, cut an "X" (according to folklore, keeps the devil away)
Sprinkle oatmeal on top
Place in hot oven for 10 – 15 minutes, then turn oven down to 350 degrees and bake for about 30 more minutes.*
* Every oven is slightly different so check bread when close to ready.
Kitcharie
In India, the word Kitcharie means "mixture" – in this case of two grains. The traditional grains are split or whole mung beans and basmati rice. I substituted orange lentils for the mung beans. Mung beans have higher protein content, which is why I like to use them. Feel free to substitute with any lentil. Kitcharie is one of the most basic and healthful meals according to Ayurveda, the ancient medicine of India. It is a wonderful meal at the change of the seasons, especially fall to winter, and is cleansing and detoxifying for the system.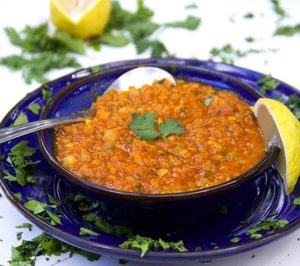 I am listing the many spices we used on Saturday. Please be creative.  You can eliminate a spice if you don't have it.  The most important spices are turmeric and cumin. Ghee is used traditionally instead of olive oil. Ghee is clarified butter that has been cooked longer to remove all the moisture, and the milk solids are browned (caramelized) in the fat and then strained out. This gives a rich nutty taste. Ghee has a longer shelf life, both refrigerated and can be stored at room temperature. Ghee has played a key role in Ayurveda for centuries, where it's prized for its anti-inflammatory, digestive and therapeutic properties. If you don't have ghee, you can use olive oil.
* I found some cherry tomatoes in the walk-in at Grey Bears and I roasted them (400 degree oven for about 45 minutes with olive oil and salt).  It is not traditional to put roasted tomatoes in Kitcharie but I think they add a delicious element.
1 cup split mung beans or lentils
2 medium onions, sliced
3/4 cup white basmati rice
6 – 8 cups of water
Fresh ginger
1 T fennel seeds
2 T turmeric
2 T cumin
1 T sweet paprika
1 tsp coriander powder
1/2 tsp cinnamon
1/4 t cloves
Ghee or olive oil
Salt and pepper
Optional: Mix in a tsp freshly squeezed lime/lemon toward end of cooking
Garnish:  2-3 tablespoons chopped cilantro and/or parsley
Coat saucepan with ghee or olive oil
Add fennel seeds and saute for about a minute to brown seeds (brings out flavor)
Add sliced onions (add more ghee or olive oil as needed)
Add all spices and stir, incorporating onions (yes, add before lentils and rice … heating the spices brings out the most flavor)
Add mung beans or lentils / add rice and stir
Add 2 cups of water.
When done, add more spices to taste and add salt. I don't add salt at the beginning because the rice and lentils/mung beans absorb it and may get too salty.
Notes: I do not add all the water at once. I start with 2 cups and add water as needed for desired consistency. Kitcherie can be whatever consistency you like. I prefer a bit thicker Kitcherie, while others like it similar to a soup. Enjoy !
And a big thank you to my invaluable assistants, Michelle and Martha!
Chef Poppy DeGarmo, 2018