Fall brings shorter days, longer nights, cooler weather and a new menu of seasonal foods to help keep your body balanced and well. The fall harvest is full of antioxidant- and fiber-laden fare from Brussels sprouts and pumpkin to parsnips and persimmons. Incorporate these tips and recipes into your life to boost your health during the autumn months.
Reach for Root Vegetables
Most root vegetables are available all year and found in our weekly brown bags, but they're at their peak from fall to spring. Underground gems such as garlic, onions, ginger, turnips, carrots, sweet potatoes, beets, and parsnips deliver ample flavor and nutrients during the cooler months. Many root vegetables are loaded with folate, which is key for cell growth and metabolism, and beta-carotene, which aids vision and bone growth.
Add Anti-Inflammatory Foods
During fall, a host of allergens can conjure sniffles and sneezes, so it's important to pack in anti-inflammatory foods. Seasonal foods high in quercetin, like apples and onions, help block the release of histamines, which are the substances responsible for allergic reactions, according to the Journal of Allergy and Clinical Immunology.
Farmers Markets
Learn more about seasonal produce, connect with your food, and boost your health with a visit to your local farmers' market. Our local farmers grow the most nutritious produce possible through sustainable techniques. They pick produce right before the market, and often grow heirloom varieties. As a general guideline, some foods to look for during the fall are apples, cranberries, figs, grapes, pears, persimmons, pomegranates, mushrooms, pumpkins, Brussels sprouts, and leafy greens such as Swiss chard, romaine, kale and collards.
Go for Whole Grains and Seeds
Another optimal food group for fall includes whole, nutritious grains —barley, rice, kamut, spelt – or foods that are technically seeds but are used like grains such as amaranth, wild rice, buckwheat, millet and quinoa. These foods support good nutrition and health with their high levels of B vitamins, which help improve mood and reduce anxiety, depression, and seasonal affective disorder. Contrary to processed or refined grains, whole unrefined grains maintain their hunger-reducing fiber and inflammation-fighting vitamin E. Add grains and seeds to soups, stews and salads.
Try New Recipes
There's no better way to enjoy seasonal fare than trying out new recipes. The following three recipes are packed with fall flavors and nutrients. Feel free to experiment or substitute ite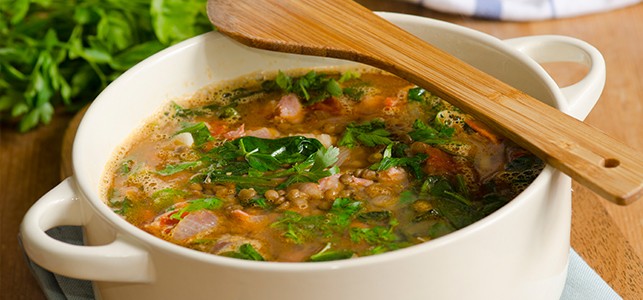 ms from your cabinet.
Autumn Lentil Soup With Wilted Greens
Ingredients:
2 cups red lentils, rinsed
2 celery stalks
1 onion, yellow or white
2 carrots, chopped
1 tablespoons ginger, freshly grated
3 garlic cloves, minced
1 1/2 teaspoons ground cumin
1/2 teaspoons ground coriander
5 cups vegetable broth
2 tablespoons grapeseed oil
3 cups fresh mixed greens (e.g., red winter kale, Swiss chard, and spinach)
Sea salt (optional)
Directions:
Rinse lentils thoroughly and check for small stones.
Heat grapeseed oil in a sauté pan over medium heat.
Once sauté pan is warm, add minced garlic, carrots, celery, onions, and grated ginger. Cook until onions are translucent.
Add spices, vegetable stock, and lentils, and bring to a simmer. Cover and let cook for 30 to 35 minutes until lentils are soft.
While lentils are cooking, add the mixed greens to a steamer and cover to wilt for approximately 2 minutes.
Serves 6 to 8
Persimmon and Pomegranate Salad
Ingredients for Salad:
8 cups mixed greens
4 ripe (fuyu) persimmons, thinly sliced
2 pomegranates, seeds removed
1 cup walnuts, toasted
Ingredients for Vinaigrette:
4 teaspoons red wine vinegar
2 teaspoons lemon juice
Sea salt, dash
Black pepper, dash
1/2 cup extra-virgin olive oil
Directions for Vinaigrette:
In a small bowl, whisk the red wine vinegar, lemon juice, salt, and pepper.
Slowly whisk in the extra-virgin olive oil. Yields 1/2 cup.
Directions for Salad:
Thinly slice the persimmons using a chef's knife or Mandoline, which is a slicer with a mounted blade.
Cut the pomegranates in half. With wooden spoon hold each half down over a bowl and pound the back of the fruit. This will remove the seeds from the pith. Remove any additional white pith that falls into the bowl.
Place greens into a large serving bowl, add sliced persimmons, pomegranates, and toasted walnuts, and drizzle with the vinaigrette.
Serves 4 to 6
Morning Millet (or Oatmeal) With Cinnamon Apples, Cranberries and Almonds
Ingredients:
1 cup millet or oatmeal
2 cups water
1 organic apple, sliced
2 tablespoons dried cranberries
Cinnamon, dash
Almonds, chopped or slivered
1/2 cup milk of choice (e.g., unsweetened vanilla almond milk)
Directions:
Rinse millet under cold water in a fine mesh strainer.
Place damp seeds in a sauté pan. *Cook over medium heat.
Cover and simmer for 20 minutes until the water has evaporated and the seeds have separated.
*Note: If you want to bring out the nutty flavor in millet, first rinse and drain it in a fine mesh strainer, then place damp seeds in a sauté pan. Heat over medium, stirring constantly, until the water has evaporated and the seeds have separated, turned lightly brown, and smell nutty.
Serves 4
Article by Fran Benedict, The Chopra Center