Martha Mangan says her main passion is travel. "I've been to nearly 100 countries, and every continent.  Including Antarctica – on a cruise ship that was a converted Ru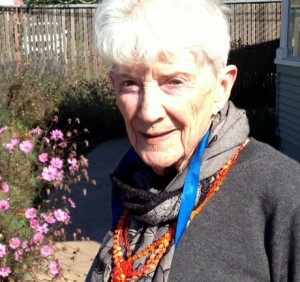 ssian tanker. At the other end of the world, I was in Alaska on the 4th of July – I kept waiting for the sun to set and it never did!  And I'll never forget seeing 100 elephants in a parade in Sri Lanka."  Martha also volunteered with the Sister Cities Program for 15 years and visited all six of Santa Cruz's sister cities.
But Martha has many interests and stories to tell from right at home. She's proud of her 4 children, 3 grandchildren, and 3 great-grandchildren, and is an accomplished watercolor painter and published author.  A retired teacher and principal in the Santa Cruz public schools, Martha speaks fondly of her 6th Grade classes at Natural Bridges Elementary School. That job provided one of her first connections to Grey Bears.  Always conscious of the environment, she sought a place to recycle paper from school – and found it at Grey Bears.
Martha's early volunteering efforts included finding a re-use for newspapers – wrapping flowers at local floral shops.  In 1992, she was on the Grey Bears glean team, harvesting fruit from local orchards for our Brown Bag program.  She did her share of "working the line" to fill the Brown Bags as well, then turned to the Thrift Store.  "I've been volunteering for Grey Bears Thrift since before it even had a building! We'd sell the donations outside – like a glorified yard sale.  And for 20 years I've been the Thursday Girl, cashiering and serving customers for Grey Bears."
Why? "Grey Bears is such a vital part of the community. It's been so gratifying to watch it grow over the years – so many people contribute and participate, but I want to spread the word even more. Everyone should know about Grey Bears!  The Brown Bags of food are just the tip of the iceberg.  To be able to recycle and reuse such a variety of things – from books to computers – it's what our planet needs.  To provide jobs and volunteer opportunities shows how Grey Bears is a real community project. The friends I've made at Grey Bears are incredible – it's like a second family."