Originally from Philadelphia, Jean and her husband Frank started their family in upstate New York in the 1950s.  They moved to Ariz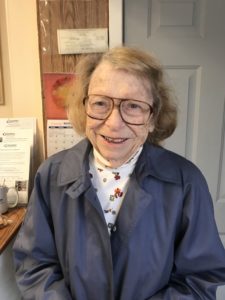 ona so their children could breathe easier, then to Los Gatos, where Jean worked as a librarian. She served 19 years as Willow Glen High School librarian before she and Frank retired in the late 1980s. They built their home in Bonny Doon and have been part of the community there for 30 years.
How'd you hear about Grey Bears?
"While recovering from surgery in 1995, a neighbor brought me a bag of groceries each week – that's the kind of community we have in Bonny Doon. She told me it was from Grey Bears, and when I asked to learn more, she told me to come with her to volunteer. I've been a volunteer and a member (Brown Bag recipient) ever since."
Jean volunteers at Grey Bears in two ways. Every Tuesday she helps in the Thrift Store, taking donations of linens and pricing them for sale. She and Frank help coordinate drivers for the Thursday brown bag deliveries to Bonny Doon, where more than 50 bags are distributed to community members.  They have done the route themselves one month per year – "seems like our turn is always the rainiest month!"
 Where were you in the 1989 earthquake?
"We were living in Bonny Doon, but Frank was with his elderly mom in upstate New York.  I was driving to a friend's birthday party in Saratoga – I had just picked up the cake from her favorite bakery. While driving on Hamilton Avenue I could tell something was happening – the truck next to me was shaking and bouncing – I thought there were horses in it that were really jumping around! I soon realized we were in an earthquake. I made it to the party, and expected the cake to be a mess when I opened the box, but it had survived! I spent the night there because it was impossible to get home."